Benjamin Alire Sáenz, Author, Poet & Teacher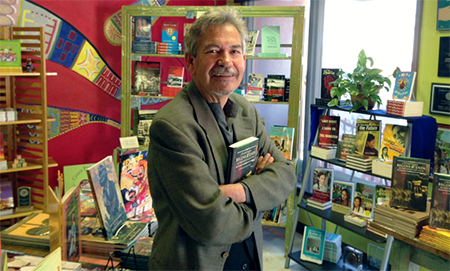 Benjamin Alire Sáenz Wins 2013 PEN/Faulkner Award for Fiction
By Lisa Y. Garibay
UTEP News Service
Chairman of the Department of Creative Writing Benjamin Alire Sáenz has been selected as the winner of the 2013 PEN/Faulkner Award for Fiction, America's largest peer juried prize for fiction. He won the prize for his collection of short stories titled Everything Begins and Ends at the Kentucky Club, published by El Paso company Cinco Puntos Press, making it a double honor for the city of El Paso.
"The people of the border have given me my voice. All I have ever done is return those words back to the people who taught me to speak," Sáenz said. "This award does not belong to me — it belongs to us. This border is my heart and I believe it is the heart of this nation. And I also believe that Juárez is the heart of Mexico," Sáenz said.
Taking its title from a storied Juárez club just over the U.S.-Mexico border, Everything Begins and Ends at the Kentucky Club offers seven different stories examining the lives of people in the El Paso-Juárez border region. The press release about the award describes them as struggling "with the impossible ambiguities of borders, whether they be sexual, emotional, national or economic.
"Ben Sáenz's work is well-deserving of this award," said UTEP College of Liberal Arts Dean Patricia Witherspoon, Ph.D. "He is a consummate storyteller who writes with strength and yet tenderness, who shares his space and time with his reader and always brings us willingly on the journeys he takes. He is one of the few writers who can speak eloquently to adults, young adults and children. And what a wonderful person to have among us as a colleague."
Renowned novelists Walter Kirn, Nelly Rosario, and A.J. Verdelle served as judges for the prize, considering more than 350 novels and short story collections by American authors published in the United States in 2012. Submissions came from 130 publishing houses, including small and academic presses. First awarded in 1981, the prize is named for Nobel Prize winning novelist William Faulkner, and Sáenz is the first Hispanic writer to receive it.
"He's one of the most prolific writers I have ever met, sometimes producing two books in one year, like he did this year," said Saenz's colleague Associate Professor of Creative Writing Daniel Chacon. "Both of those books have gone on to win amazing prizes and to get positive critical attention."
In speaking about his experience as co-host of KTEP-FM's (88.5) "Words on a Wire" radio program with Sáenz, Chacon said, "We have the chance to talk to some of the greatest writers in the country, and together we are able to extract a lot of valuable information and advice from these writers, but the ironic thing is that Ben himself is one of the country's most distinguished writers."
Judge A.J. Verdelle praised Saenz's mastery of language.
"In Everything Begins and Ends at the Kentucky Club, his 20th published book, Benjamin Alire Sáenz shows how decades working at your craft gives birth to might and mastery … He presents a rendering of reality that is lush, tender, expansive, inclusive and profound. The author takes stunning care with language — English, Spanish, and the languages of sunlight, daylight, dimlight, night light — twisting and tumbling with the whispered language of the human heart. Sáenz also devotes impressive attention to rendering communities on the borders of the United States and Mexico, on the boundaries of sensual and sexual expression, on the edge of despair, and on the cusp of redemption."
In addition to teaching at UTEP, Sáenz is a poet, fiction writer and essayist who has been a finalist for the Los Angeles Times Book Prize and PEN Center's award for young adult fiction. He was recently awarded the American Library Association's Pura Belpré Award and the Stonewall Book Award for his young adult novel Aristotle and Dante Discover the Secrets of the Universe. The book also was recognized as a 2013 Michael L. Printz Award for Excellence in Young Adult Literature Honor Book.
As winner of the PEN/Faulkner Award, Sáenz receives $15,000. He will be honored during the 33rd annual PEN/Faulkner Award Ceremony at the Folger Shakespeare Library in Washington, D.C., on May 4. Previous winners include E.L. Doctorow, Ann Patchett, Philip Roth, John Updike, Sherman Alexie, and Annie Proulx.
"He's, quite frankly, a brilliant writer, and as a friend and as a colleague he has been incredibly supportive," Chacon recalled. "When I started off here as a new writer, he was very encouraging, and I learned a lot. His passion for El Paso is unsurpassed by any other writer.
"In many ways, my latest book was improved because of his advice," Chacon continued. "He once told me, 'If it doesn't hurt, it's not worth much.' He writes with unapologetic passion, and when he writes it hurts, but he produces some of the most beautiful prose in the country, which is obvious in winning this incredibly prestigious fiction prize."